The WORLD Famous Bingo Cruise sets sail this year in Octobe and YOU AND A FRIEND could be aboard. Yes, Playtech are giving away an all-inclusive BINGO CRUISE for 2 people, a prize worth a massive $5000!!! This fantastic 8 day, 7 night Cruise sets sail from Ft Lauderdale and is headed to the Caribbean this year, cruising exotic destinations with breath-taking scenery and creating memories to last a lifetime!! So many sights to see and so much bingo to play!! Awesome! This really will be a holiday to remember!!!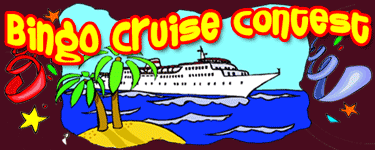 Watch for our special "Cruise Ship" Pattern to play randomly throughout the day and night. Each time the cruise ship pattern plays the game winner will receive 10 cruise miles. If they are IN chat when they win, they receive an extra 10 Cruise miles. Then ONCE an hour our CMs will give away 10 Cruise miles to a lucky game winner!!! The player with the MOST Cruise Points WINS 2 fabulous tickets on this exciting Bingo Cruise. Look out for those Special Cruise Points to be given away to our IN CHAT winners by our CMs during the contest!!
This fabulous prize includes 2 tickets for a Deluxe Verandah Outside Category "B" Cabin aboard the "all-inclusive" Bingo Cruise, worth up to $5000!!! The Deluxe Verandah Outside Stateroom features floor-to-ceiling glass doors that open to a private balcony so you never miss the fantastic views!! The room includes two twin beds convertible to a king-size bed, private bathroom with shower and hairdryer, color TV with first-run movies, wall safe, separate vanity area, sofa and sitting area and telephone. Plus entry into ALL the Bingo events played on the Cruise playing for $80,000 in Prize Money and one lucky winner will receive a FREE Cruise!!
1st Place - 2 tickets for the Bingo Cruise
2nd Place - $500
3rd Place - $250
5 runner-up prizes of $50 each
Read on to find out more about your exciting ports of call!! The fabulous itinerary includes Ft Lauderdale - Panama - Costa Rica - Belize. You will enjoy cruising aboard the Carnival Legend luxury fun ship, one of the world's fastest cruise ships! The Carnival Legend will dazzle you from the moment you enter the magnificent Renaissance Lobby and you'll be amazed at the opulence of the main show lounge, which becomes the setting for the Bingo Tournament. Add the fabulous restaurants, countless clubs and lounges, and the best casino at sea, and you've got the perfect "Fun Ship" for any vacation. You set the pace and choose your pleasure.
Your adventure includes three ports in Central America. The first stop is Colon, Panama, near to the Panama Canal - from here you can take the opportunity to travel from the Atlantic Coast to the Pacific Coast in an hour!! Next stop is Limon, your gateway to the interior of Costa Rica with its lush jungles home to an array of exotic wildlife. Then it's on to breathtakingly beautiful Belize with its English-speaking, Creole-dominated inhabitants.
Embark on this amazing Bingo Cruise Contest - You really won't want to miss a single day!
The "all inclusive" Bingo Cruise package includes:
Round-trip air transportation from select airports to Ft Lauderdale.
Ground transfers in Ft Lauderdale.
Port taxes and government fees.
8 nights in a private stateroom onboard Carnival Cruise Line's LEGEND.
Buy-in for 60 games of Championship Bingo playing for $80,000 in cash & prizes.
Official World Championship Bingo Tournament Gift.
Daubers, "9-On" Game Packets and Custom Playing Board.
Souvenir Tote Bag and Commemorative Program.
All shipboard meals and complimentary 24-hour in-room dining.
Entertainment, including nightclub shows, live bands and orchestras.
Extensive organized shipboard activities.
Use of shipboard facilities including full casino, pools, library, movie theater, fitness center and more.
Professional escorts from Special Event Cruises.
Terms & Conditions:
Airfare is included from many Western US/Canadian airports; however, surcharge may apply depending on airport location.
Any costs incurred during the trip outside the prize package are the sole responsibility of the winner.
The Chat Manager's decision is final with regard to the Cruise Points totals.
Bingo Cruise Prize value $5000.
Players must be aged 18 and over and be able to travel on the dates of the cruise.
Playtech reserve the right to suspend, change or terminate the competition at any time and for any reason, without notice.
There will be no refund in the event of cancellation of the cruise by the winner.
You must be an active depositor (Players are coming in on $5 sign up bonuses and skating with chat bonuses, never depositing)
In the event of a first place tie, Playtech will hold a "sudden death" round and the first player to win 10 bingo games, wins the Cruise. This event will be held on August 19in the Cabana Cafe beginning at 7PM ET and will conclude when a winner is declared.
In the event of a tie, for 2nd and 3rd places, the prize money will be split between the winners.