As a popular game enjoyed by millions across the world, bingo has taken the online gaming world by storm. Playtech's bingo product preserves the unique community dynamic of the game whilst harnessing the power of large, distributed networks to create one giant game with greater card turnover, bigger prizes and bigger profits.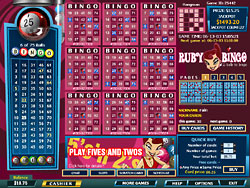 Playtech's interpretation of this age-old community based game features a great many user-friendly innovations to bingo online which includes:
multiple 'rooms', each with their own chat room/chat master, game types, card prices, etc.
compelling 3D animated graphics
a "quick buy" interface that allows players to purchase bingo cards on the fly
selective buy-ahead feature
a card manager that plays even when the player is offline
pop-up game schedules
fully featured chat with integral player photos, private chat and emoticons
auto-play, auto-daub and "best card to front" functions
embedded scratch cards, video poker and progressive slots.
Management tools include:
comprehensive in-game "all or any" player messaging
automatic, multilevel player loyalty comp scheme
chat masters can track games, give online chat bonuses and run chat games
configurable game pattern templates
game schedule planners
comprehensive game analysis and reporting
Simply put, when you visit a Playtech Bingo Hall, you visit one of the best managed business models on the internet. This means that they can look after you, reward you with free bingo bonuses and games, and keep you happily playing bingo with Playtech!